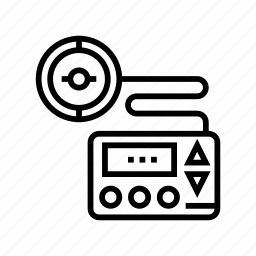 Introducing the MiniMed™

780G
We are thrilled to introduce you to the future of diabetes management — Medtronic's groundbreaking MiniMed™ 780G System. Building on the success of its predecessors, the 780G brings together Medtronic's most advanced technologies to provide you with a simplified and more personalized diabetes management experience.
The MiniMed™ 780G System is designed as a hybrid closed-loop system which works around the clock to automate insulin delivery. It combines state-of-the-art continuous glucose monitoring (CGM) with a sophisticated insulin pump and an advanced algorithm that adjusts insulin delivery based on your body's needs. The goal? To help you maintain optimal glucose levels with less effort and worry.
With 780G, Medtronic aims to continue its mission of transforming diabetes care, providing more freedom and less daily stress for those living with diabetes. This innovative system represents the latest in Medtronic's commitment to improving patient outcomes and quality of life. We at Southside Diabetes are excited to be part of this journey with you. Stay tuned to our website for more details about the MiniMed™ 780G System as they emerge.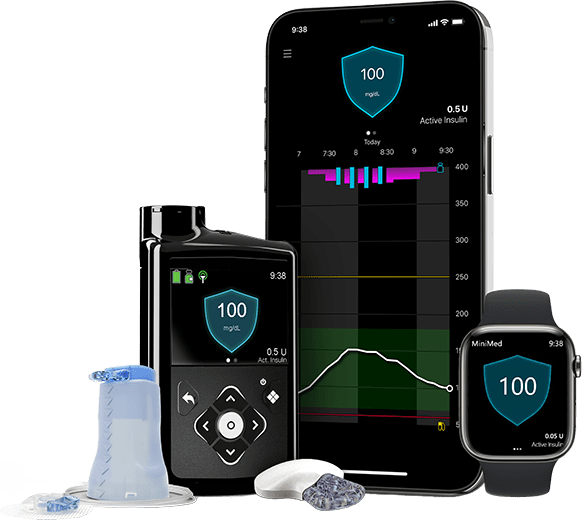 Upgrading to the MiniMed 780G System comes with a wealth of benefits aimed at making diabetes management more efficient and less burdensome. The system's integration of an advanced algorithm with the Guardian 4 offers precise insulin delivery and glucose control. The algorithm, with its SmartGuard automated insulin delivery, improves Time in Range by making necessary adjustments every five minutes. The system's capability to differentiate between glucose rise due to meals versus other factors, like medication or stress, adds another layer of precision.
780G offers reduced hypoglycemia by proactively predicting glucose levels two hours ahead. The Guardian 4, with its continuous glucose monitoring, eliminates the need for regular calibration and allows for insurance covered test strip refills, a feature not universally offered by all plans for other devices. Maintenance is made simple with a 7-day sensor that aligns with the Medtronic infusion set and reservoir. To top it off, the system comes with an enhanced smartphone app compatible with the Apple® Watch and boasts adaptive personalized insulin delivery that adjusts to lifestyle changes, thus improving overall quality of life.
Benefits of the MiniMed™ 780G System
Algorithm and Guardian 4 Integration
The algorithm + Guardian 4 work in tandem to manage insulin delivery and glucose control. The algorithm is the software that powers your pump, featuring SmartGuard's automated insulin delivery, often referred to as "auto mode." It supports automated basal delivery every five minutes, aiming for a glucose level of 100 mg/dL, the lowest target available on the market. Optional targets of 110 mg/dL and 120 mg/dL are also available.
Automated Mealtime Correction
The system offers automated mealtime correction, acting every five minutes when needed to target a glucose level of 120 mg/dL. It has the capability to distinguish between a rise in glucose levels due to meal intake versus that caused by medication or stress.
Improved Time in Range
The algorithm contributes to an improved Time in Range (TIR), the percentage of your glucose levels that fall within the recommended 70-180 mg/dL range, including both fasting and mealtime glucose levels. With recommended settings, you can achieve a TIR of 80-95%, with an active insulin time of 2:00 and a blood glucose target of 100 mg/dL.
Reduced Hypoglycemia
Hypoglycemia is reduced, as the algorithm, coupled with continuous glucose monitoring, looks two hours ahead to predict if your glucose level will drop below 80 mg/dL. SmartGuard adjusts insulin delivery every five minutes: increasing, decreasing, or pausing as needed to maintain your glucose level around 100 mg/dL.
Guardian 4 Continuous Glucose Monitoring
Guardian 4 provides continuous glucose monitoring with no required calibrations. This means only one finger stick is needed to enter SmartGuard, and no further finger sticks are required if you remain in SmartGuard. This system also allows you to fill test strips through your insurance, an option not available with all plans for patients on Dexcom® or Libre® since calibrations are usually recommended, but not required.
Sensor Maintenance and Replacement
The Guardian 4 sensor needs to be changed every seven days, aligning with the Medtronic 7-day infusion set and reservoir. It uses the same sensor component, which adheres to your arm, but you will receive a new transmitter – the white plastic shell piece. Note that the transmitter still requires charging and should be replaced every 12 months.
Adaptive Personalized Insulin Delivery
The MiniMed 780G System adapts to lifestyle changes and individual needs, adjusting insulin delivery accordingly. This advanced adaptability not only enhances glucose control but also improves the quality of life for users by reducing the burden of managing their diabetes.
Enhanced Smartphone App
The technology includes an enhanced smartphone app that is now compatible with the Apple® Watch*.
*Smart devices not included
Frequently Asked Questions
Understanding Your Warranty and Upgrade Pathways
 atIf you are not on a Medtronic insulin pump, call our team at Southside Diabetes and we will point you in the right direction.
If you are on a Medtronic insulin pump, you need to know your warranty date. If you are on commercial insurance, Medicaid, or Tricare, you are eligible for a new insulin pump through insurance every 4 years. If you are on Medicare, your warranty – or time to a new pump – is 5 years*.
*We agree, this is stupid. Write your congressman.
Don't know your warranty? Call Medtronic 1-800-646-4633 or call your Territory Manager.
If you are out of warranty, you get a new, upgraded pump through insurance at no cost to you. All copays and deductibles apply. Medtronic will check this for you.
If you are NOT out of warranty, you have the option to do a "Pathway Upgrade" if your warranty date is more than 6 months away, or wait to upgrade via insurance when you are out of warranty.
Pathway Upgrade enables an in-warranty (4 or 5 year, greater than 6 months) upgrade – in house, with Medtronic. This does not touch your insurance. Your warranty date remains the same. The cost is $199 if you are already on a Guardian sensor, or $299 if you are not on a Guardian sensor (including no sensor, Dexcom®, or Libre®).
Upgrading to the 780G with Guardian 4
Navigate to www.diabetes.shop. Choose to either Log In or Create an Account. Register for the 780G upgrade, starting from May 15, 2023, at 11am PST (2pm EST). June 1 is when SSD patients will be eligible for the shipment of the new Guardian 4 transmitters (only for SSD patients via early access).
Once your transmitter is shipped, you will get a link via email. Use this link to watch a mandatory 45-minute welcome video. Ensure you finish the entire video to proceed to the next step. After the video, you'll receive a separate link. Use this link to download the app to begin your 780G software download.
Set aside approximately 2 hours for this process. Be prepared to provide necessary patient input: unpairing your current Guardian 3 transmitter; then, pair your new Guardian 4 transmitter. Follow the app's prompts to complete these steps. Note that your download will pause until you finish both these steps.
Wait for a notification signaling the completion of your software download. Once the download is finished, you'll be asked to install the update. Allow approximately 20 minutes for this installation. Upon completion of the installation, your 780G with Guardian 4 will be operational.
New & Unchanged Settings with 780G
Two settings are new but are automatically transferred over during the download and installation process. Your other settings are automatically transferred.
New Settings
Active insulin time (AIT) of 2 hours (2:00)
Blood glucose target (BG Target) of 100 mg/dL
Current Settings – Unchanged
Manual basal rate(s)
Insulin to carb ratio (ICR)
Insulin sensitivity factor (ISF)
Max basal rate
Max bolus dosage
Reasoning behind the new settings?
The clinical trials conducted for the 780G device identified the optimal settings to enhance Time in Range and minimize occurrences of hypoglycemia.
The Best Practice settings are:
Active insulin time (AIT) of 2 hours (2:00)
BG target 100 mg/dL
The BG target can be adjusted to either 100 mg/dL, 110 mg/dL, or 120 mg/dL. This decision should be made in conjunction with your healthcare provider based on individualized patient risks.
What if I don't have a smartphone or home internet?
Your team at SSD is here to help. We've made arrangements with our Medtronic team to support you. We can help you view the mandatory 45-minute video as well as download and install the software upgrade. We will have dedicated smartphones on site and the ability to use our guest WiFi network.
**Please bring a book or something to amuse yourself during the 2-3 hour download and installation phase. We are entertaining – but not that entertaining 😊
Am I eligible for the 780G upgrade if my supplies ship from a company other than Medtronic?
Yes – but not until August 2023. If you use a durable medical equipment company (such as Edgepark, Edwards, CCS Medical, Advanced Diabetes Supply, or Byram), you will either keep your current 770G pump and use the software download phase detailed above – or receive a new 780G insulin pump. You will receive the new Guardian 4 transmitter at the same time.
Does Dr. Stallings recommend upgrading to 780G?
Yes! Call the office if you have any additional questions. You can also call Medtronic and/or your Territory Manager if you have questions or are ready to upgrade.
Southside Diabetes: 757-659-9903
Medtronic: 1-800-646-4633
Office
Southside Diabetes
1337 Armory Drive
Franklin, VA 23851
Hours
Tues - Fri: 8-5pm
 Sat, Sun & Mon: Closed