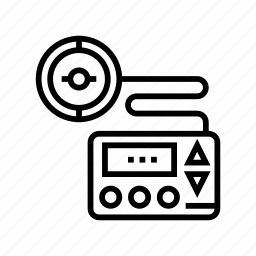 Insulin pump therapy is an important treatment option for type 1 and type 2 diabetics. An insulin pump replicates the work of your pancreas: releasing insulin in small, continuous dosages using only rapid-acting insulin (Novolog® [aspart], Humalog® [lispro], Fiasp®, Lyumjev®). This improves absorption of the insulin and uses an average of 25% less insulin than shots. This results in less glucose fluctuation, improved glucose control, less risk for hypoglycemia (low blood sugar), and may help some patients lose weight.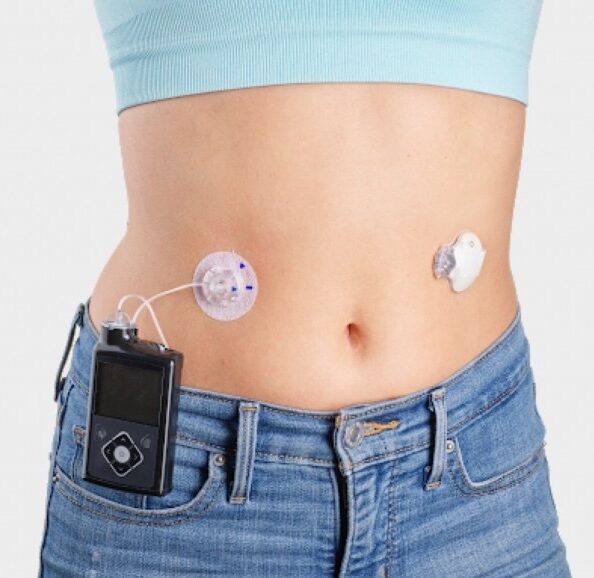 Frequently Asked Questions
How does it work?
Chances are you're using a long-acting insulin once or twice a day, plus a rapid-acting insulin before your meals. The pump does the same thing but doesn't require all the needles and injections. The pump delivers a small, continuous amount of insulin (the "basal" rate) in place of the long-acting insulin. When you enter your blood sugar level, the pump calculates how much insulin you need to correct a high sugar back to a normal level. If your blood sugar is already normal, it will not recommend any additional insulin. If you are eating, you tell the pump how many carbohydrates you're eating and the pump will calculate how much insulin is needed to cover your meal. You're in charge: you only get the extra insulin (a "bolus") when you tell the pump you need it.
Is the pump surgically implanted?
No! The pump has a clip to attach to your clothing, slide in your pocket, or sits directly onto your skin. A small plastic cannula sits directly beneath your skin in the fatty tissue to deliver your insulin.
Does it hurt?
No, and you should talk to the nurse practitioner if it does. The insertion of the infusion set (which delivers the insulin) is quick and often painless. Any discomfort that occurs while you are wearing the pump may be from placing the infusion set in a skin fold or beneath the waistband of your clothes. You learn by trial and error: if it hurts there, try to avoid that site next time.
Most people prefer pump therapy because you no longer have to take insulin injections (long acting or short acting), so it's much more comfortable than injecting insulin 3-5 times a day. It also reduces the formation of scar tissue beneath the skin from taking so many shots every day.
How often do I have to change it?
Every 2-3 days depending on how much insulin you're using and how much insulin your pump holds (200-300 units).
What about exercise?
If you are wearing a patch pump, it will stay on during exercise. Depending on what kind of exercise you are doing, you may choose to suspend the delivery of insulin to prevent your blood sugar from dropping too low. If you are wearing a tubed pump, you can leave the pump attached or disconnect at the infusion site. Many people prefer to remove the pump for convenience, as well as to prevent their blood sugar from dropping too low. After you're done exercising, reconnect the infusion set and go about the rest of your day.
Do I sleep with it?
You still need insulin overnight to wake up with your blood sugar in range the next morning. If you are wearing a patch pump, it stays attached to your skin through the night. If you are wearing a tubed pump, you can attach the pump to your clothes or let it lay next to you in the bed. There are no hard and fast rules about where to place your pump when you're sleeping, as long as you keep it attached to you.
What about showers and swimming?
All the pumps are waterproof and may be worn while showering or swimming. If you are wearing a tubed pump, most people prefer to disconnect the pump at the infusion site to shower or swim, then reconnect the pump when they're done. We do not recommend being off your pump for more than one hour to maintain glucose control.
What about intimacy?
If you are wearing a patch pump, it stays attached. If you are wearing a tubed pump, you may disconnect the pump at the infusion site, then reconnect afterwards. Disconnecting is not required, though most people find it more convenient.
Does the pump work with my sensor?
All insulin pumps will work without a sensor, though many of them have additional features that require a sensor. Medtronic® pumps work with the Guardian® sensor. Tandem® pumps work with the Dexcom® G6. OmniPod 5 works with Dexcom® G6.
How much does it cost?
Luckily, most insurance plans cover at least 80% of the cost of a pump, though this varies with each insurance policy. Select companies have payment plans to help offset the remaining copayment that you're responsible for. Your contact and insurance information will be given to the pump representative who will answer all your questions and tell you how much the initial and ongoing costs will be. No surprises.
How do I learn how to use the pump?
After you receive your insulin pump, you will be contacted by the pump trainer. You will set a date and time to meet at the clinic to learn how to use your pump. We encourage you to bring someone with you who will also learn and provide you additional support.  OmniPod 5 users will begin their training online before receiving in-person training.
Does the pump require batteries?
Yes and no. Medtronic pumps require one AA battery. This is usually changed every 1-2 weeks depending on whether or not you're using a sensor, and how much you use your pump. Tandem pumps use a USB cable to recharge the internal battery. OmniPod uses a USB cable to recharge the PDM (personal diabetes manager). Tandem and OmniPod should be charged 1-2 times per week, though it's often suggested to top off the battery by charging for 10-15 minutes per day.
Office
Southside Diabetes
1337 Armory Drive
Franklin, VA 23851
Hours
Tues - Fri: 8-5pm
 Sat, Sun & Mon: Closed